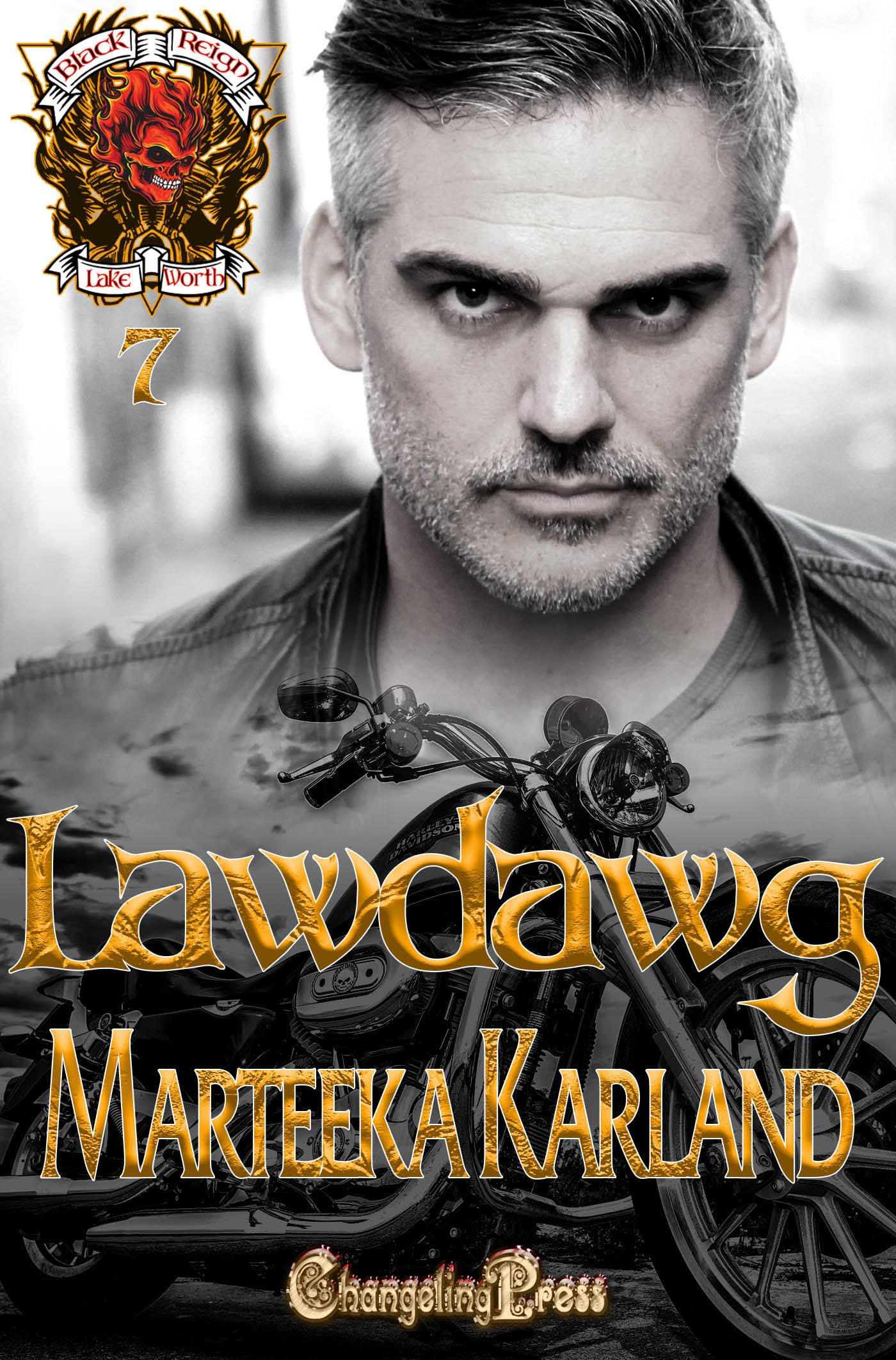 Motorcycle Club Romance, Suspense, Age Gap
Date Published: 3/25/22
Eden: The first time I saw Grady Bassett was when Samson brought Charlotte home. Turned out my brother's woman is Grady's daughter. Naturally, the man's focus wasn't on some camgirl at a MC he had no desire to be around. When he finally does notice me, he can't see me for my position within the club -- a woman who has sex on camera for strangers. But I noticed him… and I'm a woman who knows what she wants.
Lawdawg: Eden's the most naturally sexy woman I've ever seen. Sure, I'd been worried sick about my daughter, but the second the danger to her was past, I became obsessed with Eden. I even downloaded every one of her videos. Which meant I binge watched. I gave Samson hell for wanting my daughter when he's so much older, but now I'm in the same position. I need to let her go, to be the better man. But now I know Eden has an online stalker. He knows where she lives and who her friends are. Black Reign is compromised, so I reached out Cain at Bones MC. She might be young enough to be my daughter, but she's still mine. No one will ever harm her. This stalker will have to go through me to even get close.
EXCERPT
She answered on the first ring. "Hey there, Lawdawg. How's it hangin'?" She hiccuped slightly at the end and giggled.
"Are you… are you drunk?"
"Well, yeah. It's a party, you know. We're all drunk."
"Great," I muttered. "Just fuckin' great." I scrubbed a hand over my face but continued. "Listen to me, Eden. Go to Samson. You're in danger. There's a guy stalking you."
"Sinner58? Yeah. I know. He's running off all my good followers." She sounded like she was pouting.
"You knew about this?" Anger was starting to build inside me. Anger. Aggression. I wanted to take her over my knee and paddle her like the child she was.
"Of course, I knew! He's been bullying my regulars for weeks. It's just that it must have stepped up in the last few days, because my followers are leaving now instead of merely waiting until the next show."
"Did you tell anyone?"
"Nope." No further explanation.
"Of course, you didn't." I let out an exasperated breath. "Look. Just stay put. This guy knows where you are and how to get to you. I'm headed that way."
"Oh, you are, huh?"
"Eden…" I tried to inject as much warning as I could. Anyone else would have tripped all over themselves to do his bidding. Eden? Not so much.
"What do you plan on doing when you get here?"
"I'm lockin' that place down with you in it!"
"Oh, really?"
"I don't have time to argue with you, Eden," I snapped, beginning to get really angry now. Well, angry but more frustrated. She wasn't taking this seriously at all. Hadn't in all the time she knew about it.
"You don't?" I sensed a trap but had no idea what it might be. "Well, what if I did this…" There was a pause before my phone signaled I had a text. I pulled it up and there was a selfie of Eden. Her exquisite tits on fine display. "Or this." The next image she sent had a man sucking at one of those tits. Something inside me just… snapped. I felt like something inside my head that was primitive and territorial roared to the front and demanded I claim that woman. She was mine. No one else's. It didn't seem to matter she was young enough to be my daughter or that my late wife was probably rolling over in her grave because of the girl's age. I needed her and had every intention of taking her with me. I could tell myself it was to keep her safe, but the pure and simple fact was, I just fucking wanted her.
About the Author. . .
Erotic romance author by night, emergency room tech/clerk by day, Marteeka Karland works really hard to drive everyone in her life completely and totally nuts. She has been creating stories from her warped imagination since she was in the third grade. Her love of writing blossomed throughout her teenage years until it developed into the totally unorthodox and irreverent style her English teachers tried so hard to rid her of.
Follow the Author on Instagram and Twitter: @MarteekaKarland
Follow the Publisher on Facebook, Instagram and Twitter: @changelingpress
Brought to You By: