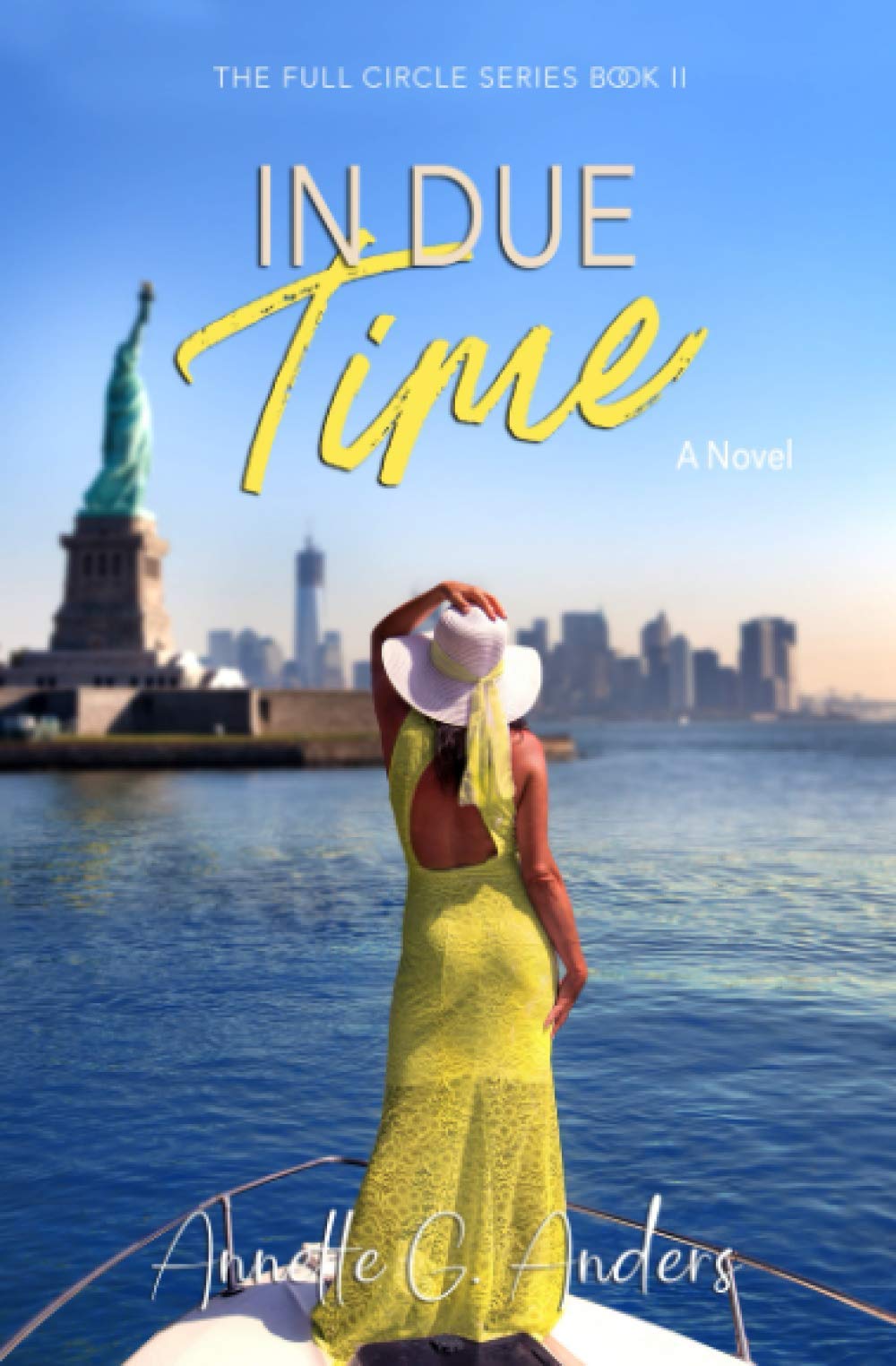 The Full Circle Series, Book Two
Contemporary Romance
PENCRAFT AWARD 1ST PLACE WINNER (2021)
INDEPENDENT AUTHOR NETWORK AWARD FINALIST (2021)
A secret love. A yearning for adventure. A fast-paced friends-to-lovers story you can't put down.
Naomi Winters compares every boyfriend to the one man who's out of reach. When wedding bells start ringing around her, she's determined to go after her own happily-ever-after and make Revan see what's always been right in front of his eyes. There are only a couple of minor problems… He's one of her best friends, and he thinks of her as a—sister!
Adventures are part of Revan Forrester's life. The camera is his steady girlfriend, and there's absolutely no room for diamond rings or diaper duty. Until the woman he remembers as a pesky girl gives the word adventure a new meaning. But he stoically refuses to let conflicting feelings ruin his lifelong friendship with the woman he suddenly sees in a different light.
While they're having a rousing, emotional tug-of-war, someone else is tired of watching from the sidelines and is quietly shortening the rope. Will Naomi and Revan be able to meet in the middle?
IN DUE TIME is a story about lifelong dreams and finding the courage to pursue them.
Other books in The Full Circle Series:

Turn Back Time
The Full Circle Series, Book One
What will it take for Stella and David to remember their dreams, and to believe in their future?
TURN BACK TIME is a story about forgiveness, second chances—and believing in yourself.
Time Is Eternity
The Full Circle Series, Book Three
What will it take for Luca and Jo to bridge the distance and to heal together?
TIME IS ETERNITY is a book about overcoming loss and the power of friendship.
Time Will Tell
The Full Circle Series, Book Four
Time doesn't heal all wounds…
TIME WILL TELL is an emotional story about overcoming the past and finding the strength and motivation to move on.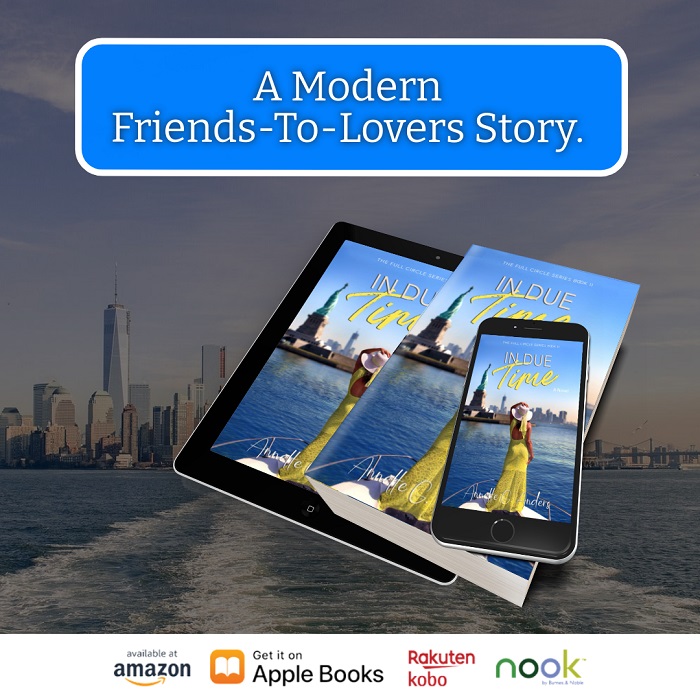 Excerpt
Naomi - January 2019
Dodging piles of dirty snow and puddles of icy water, Naomi muttered a few unflattering expletives, cursing the weather, the city of Philadelphia, but mostly the asshole she'd been on the phone with earlier.
"Telling me to chill and check with my mother," she groused, startling an older woman close by. "I'm a full partner in our travel agency, and if I tell someone our business relationship is in jeopardy, they better believe it."
She glanced at the low-hanging clouds. Great…more snow on the way. Even her Colorado-tested winter jacket couldn't hold its own against the bitter wind.
After slipping on a patch of half-frozen slush, she forced herself to pay attention to the seasonal hazards on the uneven sidewalks. She didn't even notice her favorite pub-style restaurant until she almost collided with another pedestrian and looked up.
Inside the tavern, she saw Revan sitting at the bar, his eyes glued to the beer bottle in his hands as if it held the secret to the Holy Grail. The woman next to him flashed her pearly whites—and a few other goodies—at him. Too bad he's not even looking at you, Blondie.
For a moment she watched Blondie's lips going a million miles an hour while Rev continued to gaze trancelike at the beer bottle.
He was not only one of her oldest and best friends, but—unfortunately—the guy she'd been crushing on since when her mother still braided her hair and he sported unflattering braces and a face full of acne.
Her infatuation with him was no secret, either. Everyone in their group of friends knew it.
Who told her last year that he loved her like a sister! Just thinking about it made her blood boil.
Hah! Wasn't it her sisterly duty to say hello, especially since she hadn't seen him since Christmas Eve?
On impulse, she entered the tavern and marched straight toward the bar, not paying attention to the wet spots on the floor until she lost her footing. Arms flailing, she barely managed to grab the back of Revan's chair.
"Nugget, what are you doing here?" He jumped up and circled his arm around her. His eyes traveled to her boots and he grumbled, "What are you wearing?"
She turned her foot left and right and said, "My new ankle boots, aren't they cute?" Who cared about the two-inch heels—they'd look fabulous in the spring.
Then she patted his cheek, "But enough about me. I didn't expect to see you out and about. Don't you have to polish your lenses or something? Stella said you're flying to the Middle East soon."
"You and your BFF spend too much time talking about other people's business. But yeah, I'm leaving the day after tomorrow. Where are you off to?" He dropped his arm but remained standing close to her. Close enough so she could smell his aftershave, and she was tempted to take a deep sniff.
"I'm meeting Stella at the deli. But when I walked by and spotted you, I felt the urge to wish you a safe trip." She smiled angelically at him. "Please come back in one piece! I don't want to have to fly around the world to collect your bones—again."
"What does she mean?" Blondie asked while puffing out her chest. "Nothing, Barb, it's an old story," Revan said over his shoulder, then looked back at Naomi. "How was Colorado? Did that boyfriend of yours behave?"
"Let's just say it reminded me why I'm more a summer than a winter person. And aren't you the sweetest to ask about Frank? I'll tell him you said hi, but now I've got to run and let you get back to your company," she smiled widely at the woman. What she got back was a squint and another chest lift.
She kissed his cheek and said quietly, "Bye, Shutterbug, be careful. It's a wild world out there."
Back on the street, Naomi glanced once more through the windows. Revan had already resumed his silent conversation with the beer bottle.
What would it take for him to notice her?
And why did it still matter? She was thirty years old, had a boyfriend who was fun to be with, and she should be happy about it. Should…
About the Author. . .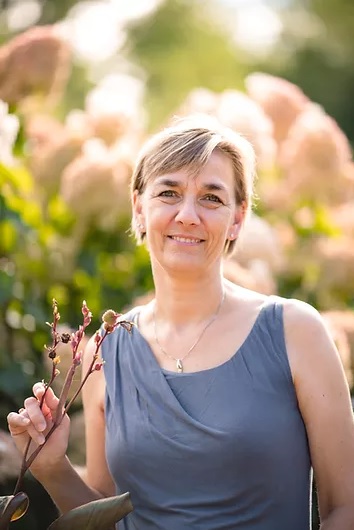 Annette G. Anders is the award-winning author of the FULL CIRCLE series. Her first two books (TURN BACK TIME and IN DUE TIME) have won multiple awards for outstanding fiction in Contemporary Romance and Women's Fiction.
In her novels, Annette explores questions about relationships and lifelong dreams, but also about deep-rooted insecurities. The stories are intriguing and believable and quickly pull the reader in. They make the reader laugh and cry—they are real! Her characters have flaws, which makes them relatable.
An avid traveler, Annette loves to write about locations she visited and takes the reader there together with her protagonists.
When Annette isn't working, she enjoys photography, having lunch with friends, and reading—often under the watchful eyes of Ecco, her goofy Boxer.
Contact Links
Purchase Links
Brought to You By: