There's no road map for what to do when your husband dies – when he jumps off a bridge to escape mistakes that he made, or even welcomed, into your lives. Lily didn't have to consult a map for this particular part of her journey; she knew the way back to the small town that she never thought she'd see again. With a precocious seven-year-old who reminded her too much of his father tucked safely in the back seat, Lily left New York with everything she owned in a U-Haul, memories that came in waves like fields along the highway, and an envelope that she was afraid to open.
Widowed.
Privacy was something in the past for Mallory, a single mom in her twenties with two young kids and dreams for a better future. Her life had been split into two – the role of a loving mom who wanted to shield her kids from a life they hadn't asked for and a woman who had been betrayed by her high school sweetheart when he discovered life wasn't all about Friday night touchdowns. And, with one phone call, Mallory realized that this life was her new one. He wasn't coming back.
Abandoned.
Celeste had been a force back in the day. Leaving your husband after an affair with the town bartender was scandalous on its own, but a brief stay in a psychiatric facility ensured she would be the talk of the town for years to come. And she was. Now, decades later, she wondered if it was all worth it; she wondered if she truly had anything to show for turning out exactly how her ex-husband claimed she would.
Alone.
She was supposed to be writing thank-you notes for a brushed silver platter that she would never use. Beth wasn't supposed to be checking feeding tubes and oxygen levels; she wasn't supposed to be a full-time caregiver for a man she had married just a few months before. A honeymoon wasn't supposed to end that way, with the sound of sirens and strangers talking of death. Beth wasn't supposed to feel this way.
Lost.
As Lily sits in the thrift store parking lot and sifts through a box of things that she needs to let go, three other women struggle to simply hold on. In this box of thrift store donations are the things that will eventually bind them together – a Chanel suit, a Burberry tie, a suit that one man loved and another man needs – items from Lily's past that will connect four women in unexpected ways and give them all the strength they need to move on.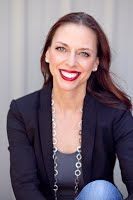 Tiffany Killoren believes in reinventing yourself. She has been an attorney, Editor-in-Chief of a lifestyle magazine, and storyteller. Her investigative writing has been featured in many magazines and her book characters are typically flawed, relatable and facing one of life's many crossroads. As an author, freelance writer and blogger, Tiffany has developed a loyal following and regularly appears on morning talk shows to discuss lifestyle and parenting topics. She lives in a Kansas City suburb with her husband.