Date Published: December 17, 2019
Publisher: Totally Bound Publishing
He's smooth, charming, arrogant and believes he can get whatever he wants—including her. Denying him is a challenge she can't resist.
Six months ago, Gia lost the love of her life—and the spark that earned her the nickname 'Glitter Girl'. When Christmas rolls near, along with her office-decorating duties and the traditional hiding of mistletoe for the underground holiday kissing bets, she puts on her happy face and pretends she isn't slowly suffocating. But when cocky lawyer and resident eye-candy Ian bets that she's the one who will be kissing him beneath the mistletoe, Gia places a bet of her own. No way, no how will she lock lips with Ian.
Ian O'Connor refuses to lose, whether in the courtroom, the bedroom or a bet concerning mistletoe kisses. From the day Gia walked into his law firm, she has haunted his fantasies with her blood-heating stilettos and sunshine smile. Now that she's single again, he'll do anything to eliminate his unhealthy fascination for her—a luxury he can't afford without exposing his troubled past.
But as their battle—and their chemistry—grow in intensity, both Gia and Ian may discover there's an even greater risk than losing a bet when surrendering to a kiss beneath the mistletoe.
About the Author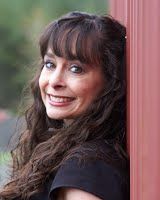 C.J Burright is a native Oregonian and refuses to leave. A member of Romance Writers of America and the Fantasy, Futuristic & Paranormal special interest chapter, while she has worked for years in a law office, she chooses to avoid writing legal thrillers (for now) and instead invades the world of paranormal romance, fantasy, and contemporary romance. C.J. also has her 4th Dan Black Belt in Tae Kwon Do and believes a story isn't complete without at least one fight scene. Her meager spare time is spent working out, refueling with mochas, gardening, gorging on Assassin's Creed, and rooting on the Seattle Mariners…always with music. She shares life with her husband, daughter, and a devoted cat herd.