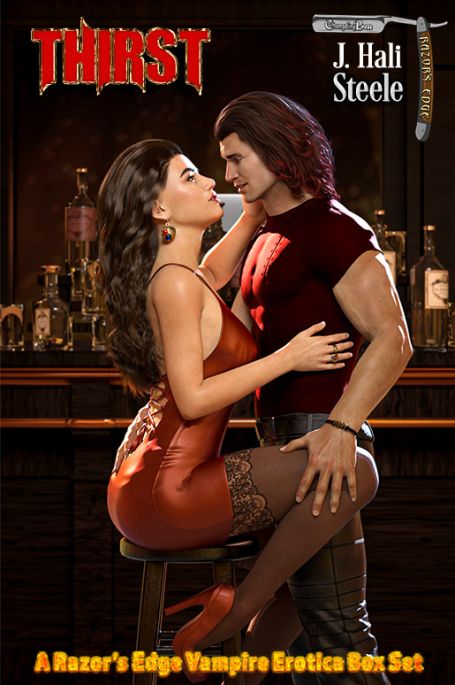 Erotica, Dark Fantasy, Vampires
Date Published: May 20, 2022
Publisher: Changeling Press
Thirsty: Monique has finally found a place where she can live out her fantasies. Little does she know the den of iniquity she's walked into is more than just a theme club. Omen's is the playground for every type of monster in the world.
A Thirst to Die For: When Nolan gives life to Amanda's carnal fantasies, his own life changes. Hell is coming to pay him a visit, and he's about to lose control.
Bane of Existence: One night spent in a human woman's arms brought Bane, a son of Satan, as close to heaven as he'll ever get. Now the only way he can have Iris is to convince her she wants him as much as he needs her.
A Vampire's Thirst: Once Nolan gave all souls moderation in everything. He was good at his job, and he called heaven home -- until he fucked the wrong seraphim! Now he's a vampire slayer serving the devil, keeping an eye on Omen's, and babysitting Lucifer's son. Not a job he expected to hold for damn near eight hundred years...
Publisher's Note: Thirst (Razor's Edge Box Set) contains the previously published novellas Thirsty, A Thirst to Die For, Bane of Existence, and A Vampire's Thirst.
Excerpt from Thirsty
All rights reserved.
Copyright ©2022 J. Hali Steele
"Must be a cold day in hell. You haven't come here alone in ages. Losing your touch or what?"
Since Nolan had been asked to keep an eye on the club, and on the devilishly handsome man behind the bar, he almost never visited without someone to make his evening more exciting. Giving Omen's owner, Peris, a long, appraising look, Nolan's cock twitched in regret. He'd been too busy lately.
"You asking to be touched? 'Cause I can do that, and make you like it." Nolan sat on his normal stool at the end of the long, shiny wooden bar, and eyed too many empty tables. "Where is everyone?"
"Resting up from their wicked weekend. And you wouldn't know what to do with that cold dick up this hot ass."
The sound of the swinging door distracted them both.
God damn, the woman was striking. Tall, curvaceous, with dark brown hair to her ass. An ass that cried out to be fucked. Christ. Nolan's cock came alive. So did every other part of his body, which took a lot of doing, considering he'd been dead too many years to count.
Peris chuckled from the other side of the counter, giving his balls a noticeable squeeze. "Looks like a live one to me. I might make a play for her myself."
"Not unless you're looking forward to visiting relatives." Peris had connections to the hierarchy below, but with the dark one's permission, Nolan would send the young man to Hell in a heartbeat.
Nolan had been called lots of things -- dead, undead, bloodsucker, motherfucker -- and he lived up to every one of them. He was a Slayer, and he was the best. "Get the lady a beer. Let's see what she does with it."
Watching the woman make her way to the bar, he took a deep breath. Human. Omen's wasn't a place humans popped into often, and for good reason. The cloying feeling of imminent danger was prevalent, a vibe even the shallowest human sensed the minute they entered the establishment.
This one ignored it, so she must be looking for something. Or someone. The blood pulsing through her gorgeous body would soon be running through his veins. Wouldn't kill her. Vamps didn't do that anymore. Okay, some did, but they were the ones he took out of play, and he enjoyed every minute of it.
She slid onto a stool at the opposite end of the bar, and it felt like she'd plopped into his lap. Cum slipped from the slit on his dick, which jerked violently inside his designer slacks. He reached up to loosen a button or two at the collar of the stark white silk shirt he wore. Getting into her panties, if she wore any, was going to be pure joy. After fucking her senseless, he'd taste her -- just a little bit if she was worth another ride. If not, he'd have a full meal before sending her home.
Peris delivered a cold brew and a glass and turned away, pretending to straighten the bottles of liquor on display. Nolan, adjusting his heightened vision, gazed right into her eyes when she looked his way. One hazel, one brown -- not something he saw often. Tipping the bottle toward him, she smiled and nodded before putting it to her lips. No glass! Excellent. A cock sucker, and he'd bet every year he had lived she was a good one. When her pink tongue darted through painted red lips, wrapped around the top of the bottle and licked it clean, he made his move.
Easing into her mind, he sifted through all the day's clutter. Such tiny panties. With a groan that lodged in his throat, he backed out, sniffing at the air. Sweet. What he'd unearthed in her mind made his dead heart beat like a drum. Fantasies should be played out, and he intended to help with hers.
J. Hali Steele wishes she could grow fur, wings, or fangs, so she can stay warm, fly, or just plain bite the crap out of... Well, she can't do those things but she wishes she could!
Multi-published and Amazon bestselling author of Romance in Paranormal, Fantasy, and Contemporary worlds which include ReligErotica and LGBTQ stories where humans, vampyres, shapeshifters and angels collide-they collide a lot! When J. Hali's not writing or reading, she can be found snuggled in front of the TV with a cat in her lap, and a cup of coffee.
Growl and roar -- it's okay to let the beast out. -- J. Hali Steele
Facebook: @jhalisteele
Follow the Publisher on Facebook, Instagram and Twitter: @changelingpress