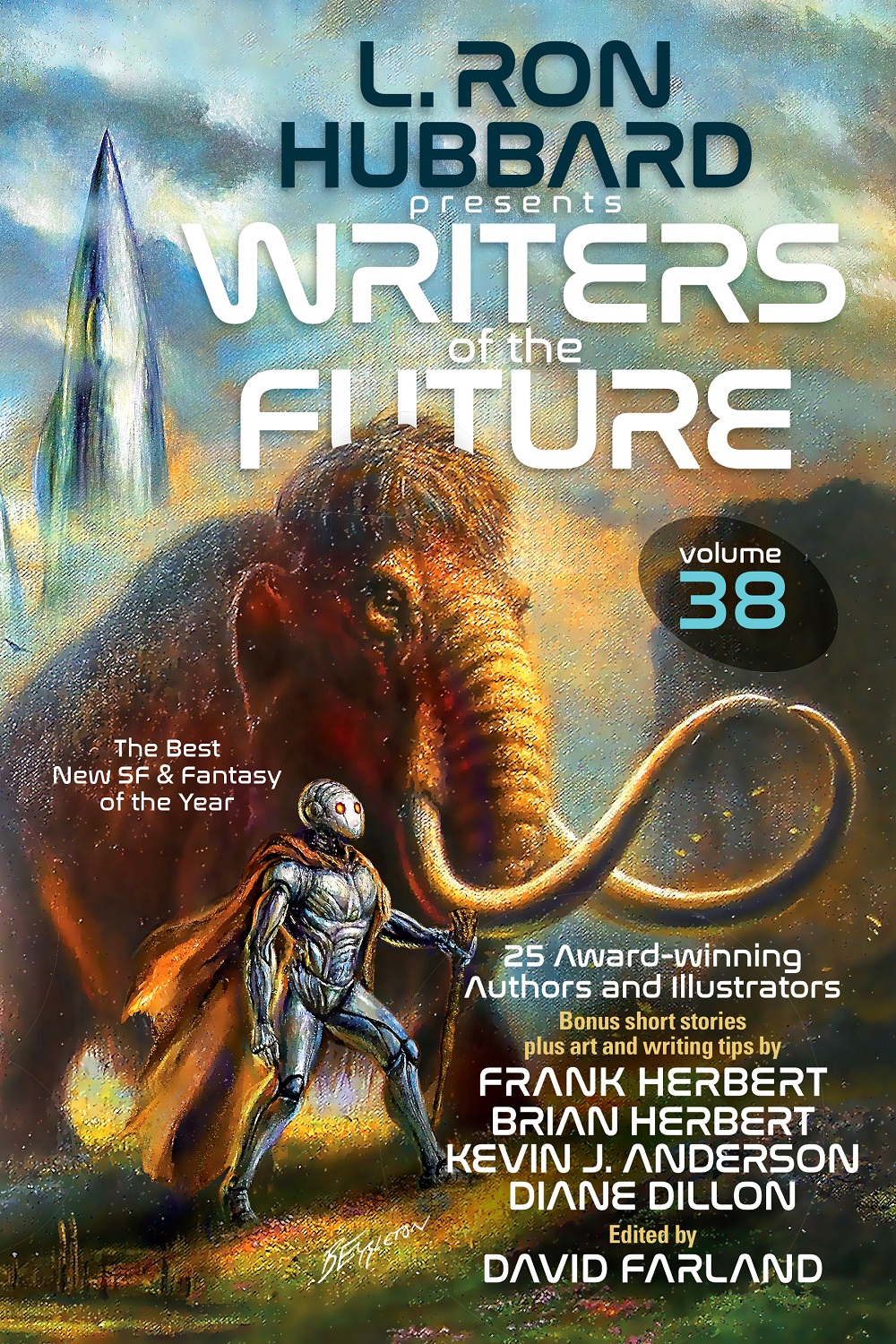 Sci-fi Fantasy
Date Published: April 2022
L. Ron Hubbard Presents Writers of the Future Volume 38
This is not just a book. It is not just an anthology of great short stories and articles. It does not just contain gorgeous sci-fi and fantasy illustrations for each story.
If you are not familiar with the Writers of the Future, let me explain.
Writers of the Future is a writing competition for NEW authors of science fiction, fantasy, and horror short stories.
It is open to all writers. There is NO entry free. The winning stories are selected using blind judging, so your color, gender, or age do not have any influence—an equal chance for everyone.
Not only is it a great way for new authors to get their start, it is a great way to find new authors to read. Which I love.
Here are a few other points that make me love this book:
• Every story is illustrated by a winner in the sister illustration contest.

• The judges are top sci-fi and fantasy authors, like Brandon Sanderson, Nnedi Okorafor, Orson Scott Card, Kevin J. Anderson, Jody Lynn Nye, Tim Powers, Larry Niven, Katherine Kurtz, and many more. How can you go wrong?

• The winners are not only published, they are given cash prizes and flown to Hollywood for an exclusive writing workshop AND they are given trophies at a lavish celebrity gala (like the Oscars for writers). Crazy!
Here are the details about THIS year's winning stories in Writers of the Future Vol 38:
In the World of Science Fiction…
…this Anthology stands out for three reasons:
The stories. The art. The extras. Which will you love most?
Standing on the shoulders of giants, these writers of the future have earned their place in the hallowed pages of volume 38. With 25-award winning authors and illustrators, this collection is a master work.
These diverse stories will fill you with new wonder.
And a few just might break your heart.
Just imagine…
• Saving the mammoths is in your hands—can you conjure the magic to make it happen?

• You've got a monster BFF—whom you're hiding from your own monster-hunting family.

• You're part of a sting, out to catch some bar hoppers who are not only bending their elbows, but bending time as well.

• It's game on, the fate of the universe is on the line—and you're about to go all in.

• And much more!

Think you've seen it all? Think again.
How would you like to know the "Single Most Important Piece of Advice" from the author of Dune?
The beautiful art and writing tips are just as wonderful as the collection of stories.
Volume 38 is a treasure.
You'll love this collection from past and future science fiction masters, because these stories are page-turners.
Get it now on Amazon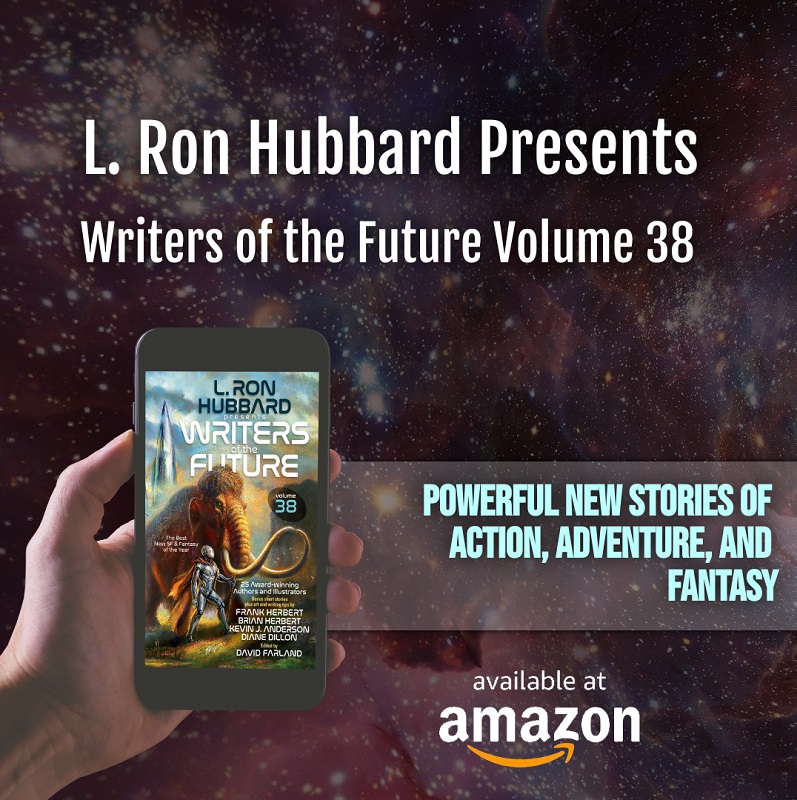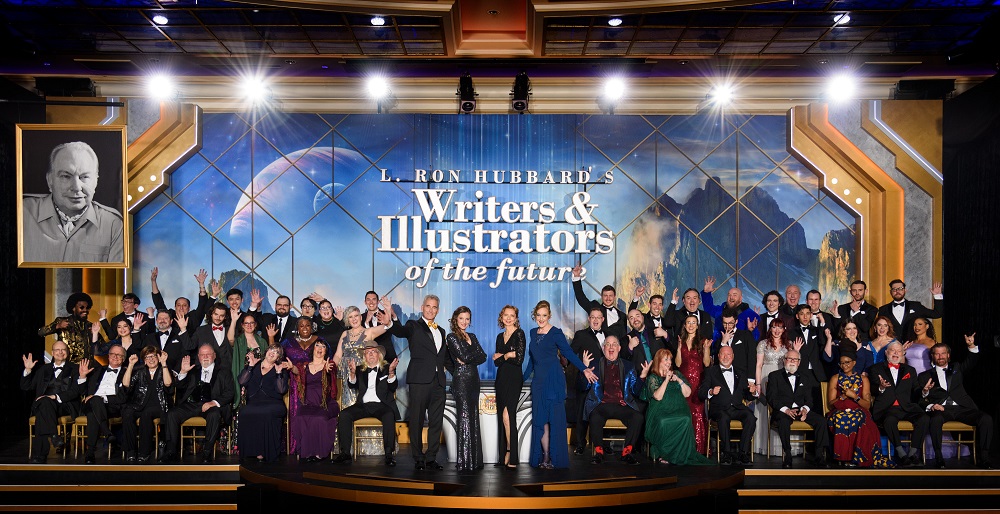 If you are an aspiring writer and love science fiction, fantasy, or horror here are some of the free resources:
List of Writers of the Future & L. Ron Hubbard books
How the Contest started:
It was started by L. Ron Hubbard. You may know him for science fiction novel Battlefield Earth. The purpose, as he stated, was to create "a means for new and budding writers to have a chance for their creative efforts to be seen and acknowledged."
L. Ron Hubbard Presents Writers of the Future Volume 38
Authors: L. Ron Hubbard, Frank Herbert, David Farland, Brian Herbert, Kevin J. Anderson, Diane Dillon, and 12 winners Azure Arther, Desmond Astaire, J. A. Becker, Lazarus Black, Z. T. Bright, John Coming, Em Dupre, N. V. Haskell, Michael Panter, Brittany Rainsdon, Mike Jack Stoumbos, M. Elizabeth Ticknor, and 1 finalist Rebecca E. Treasure.
Illustrators: Bob Eggleton, Arthur M. Doweyko, Nick Jizba, Zaine Lodhi, Tenzin Rangdol Majid Saberinejad, Natalia Salvador, Brett Stump, Jerome Tieh, Annalee Wu, Jim Zaccaria, Ari Zaritsky, Xiaomeng Zhang, André Mata, and Michael Talbot.
Critical Acclaim
"Writers of the Future Volume 38 is literary smorgasbord where each new story comes with a feeling of excitement and mystery. It's a binge read. Just one more, you think, and the next thing you know the entire book is gone!" —International Review of Books, Gold Seal rating
Purchase Link