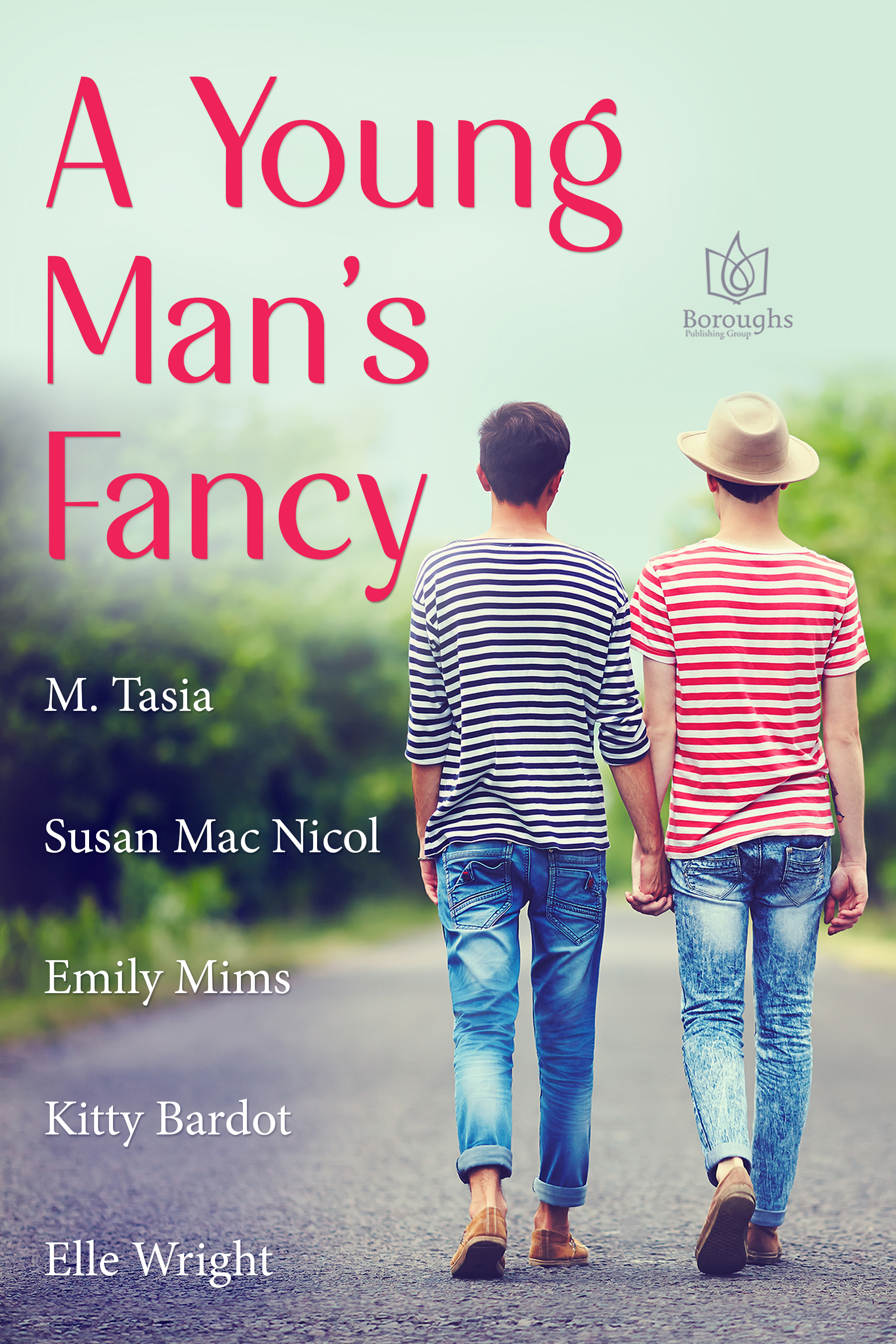 Contemporary M/M Romance, M/M Romance, New Adult M/M Romance
Date Published: May 2021
Publisher: Boroughs Publishing Group
Five YA/NA stories about the lives and loves of incredible young men
David – M. Tasia
Dumped and depressed, David flees town to work on remodeling a lake house for the summer without telling his best friend, Jacob. But best friends don't leave each other hanging, and Jacob's been missing David. Uninvited, but welcome at the lake house, Jacob engineers a hat-trick of surprises that just might change both their futures.
No Bunny Like You – Susan Mac Nicol
Colin's neighbor is so freakin' delicious, he positions himself on his balcony to get a glimpse of Dashiell dancing in his room, his sexy body twisting and turning to the music. Which would've made Dash saving Colin from nearly drowning in a bunny suit mortifying in the extreme, except Dash seems to have been spying on Colin as much as he's been checking out Dash.
Homecoming – Emily Mims
The new guy in Clay's acting class had way more going from him than swoony singing techniques. Justin clocked Clay the minute he walked into the practice room, and knew they were going to be more than friends. Complicated family dynamics almost scuttle their plans to go to Homecoming, but both guys man up and learn whose people will stand by them no matter what.
Hold The Line - Kitty Bardot
A big defensive lineman in a town where high school football is everything, Terry is harboring a secret that'd ostracize him even more than he already is. His best friend Chris is his saving grace in all the ways that matter, and in ways Terry can't share with anyone. But when push comes to more than a shove, Chris gives Terry the greatest gift of all.
Shake Me Down – Elle Wright
Everett's senior year in a new school proves to yield more than he could've ever expected. The nerdy genius he's been secretly crushing on asks him out and their chemistry is so combustible, they have to slow things down or they'll never get to know each other. And Everett wants to know Zach, inside and out, like no one else ever will.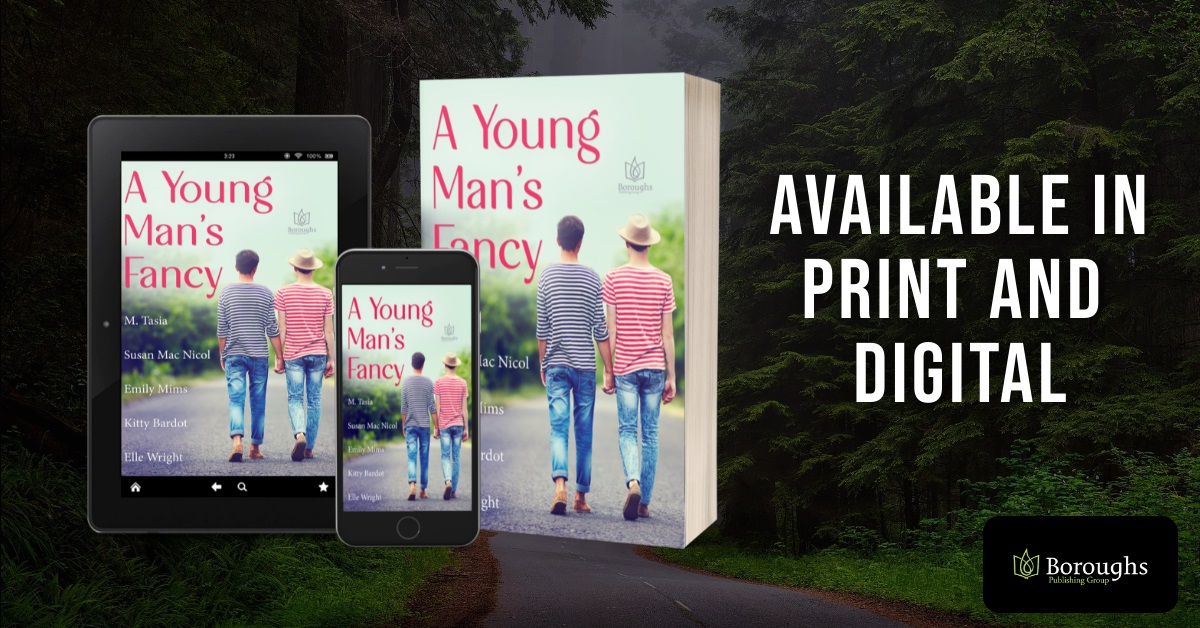 Boroughs Publishing Group

You never get a second chance to make a first impression. So. Here are our truths: We love Romance. A great story. Compelling characters. A good turn of the written word. A happy ending.
Publisher's Social Media:
M. Tasia is a M/M romance author who lives in Ontario, Canada. She's is a dedicated people watcher, lover of romance novels, 80's rock, and happily-ever-afters (once the MCs are put through their paces, of course), who grew up with a love of reading. She's a firm believer that everyone deserves to have love, excitement, and crazy hot romance in their lives. Love should be celebrated and shared.
Contact Links

Susan Mac Nicol
The 'Official' stuff
Susan writes steamy, sexy, and fun contemporary romance stories, some suspenseful, some gritty and dark, and she hopes, always entertaining. She's also Editor-in-Chief at Divine Magazine, an online LGBTQ e-zine, and a member of The Society of Authors, the Writers Guild of Great Britain, and the Authors Guild in the U.S.
Susan is also an award-winning screenplay writer, with scripts based on two of her own published works. Sight Unseenhas garnered no less than five awards to date, and her TV pilot, Reel Life, based on her debut novel, Cassandra by Starlight, was also a winner at the Oaxaca Film Fest.
The 'Unofficial' stuff
Susan loves going to the theatre, live music concerts (especially if it's her man-crush Adam Lambert), walks in the countryside, a good G and T, lazing away afternoons reading a good book, and watching re-runs of Silent Witness.
Her chequered past includes stories like being mistaken for a prostitute in the city of Johannesburg, being chased by a rhino on a dusty Kenyan road, getting kicked out of a youth club for being a bad influence (she encouraged free thinking), and having an aunt who was engaged to Cliff Richard.
Contact Links

The author of over forty romance novels, Emily Mims combined her writing career with a career in public education until leaving the classroom to write full time. The mother of two sons, she and her husband split their time between central Texas, eastern Tennessee, and overseas visiting their kids and grandchildren. For relaxation Emily plays the piano, organ, dulcimer, and ukulele for two different performing groups, and even sings a little. She says, "I love to write romances because I believe in them. Romance happened to me and it can happen to any woman—if she'll just let it."
Contact Links
Kitty Bardot juggles a life full of excitement and love. By day, she's a chef with her own catering company, by night she puts ten years of burlesque experience to use in various venues in the Quad Cities. She writes from her country home not far from the Mississippi River, enjoying every moment with her husband and their three children. Currently, she is working on her next Burlesque River story.
Contact Links
Elle Wright has been writing stories since she was a child, which led her to a career in journalism. She enjoys reporting life as much as making up a world she can control. She lives on the east coast of the United States where most of her large, noisy family resides. When she isn't in front of her computer, she loves to travel, garden, hang out with her dogs, and take in the brisk sea air that she's told is supposed to help calm her. She's been testing that theory for a while now.
Contact Links
Purchase Links
Brought to You By: