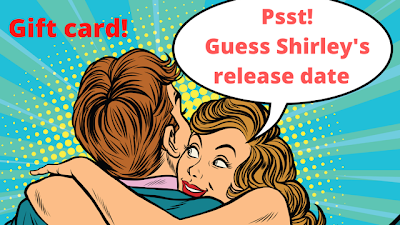 BOOK 2 IN STARTING OVER SERIES
ROMANTIC WOMEN'S FICTION/ ROM COM/ CHICK LIT
Publisher: THE WILD ROSE PRESS
Guess the release date of Shirley's new rom com, Eat Your Heart Out, about two foodie friends.
Win a $25 Amazon Gift Card and an e-copy of Eat Your Heart Out.
Everyone who correctly guesses the date will get one entry into the draw.
Bonus entries (following Shirley on various socials) will up your chances to win.
This book is so brand new it doesn't even have a cover yet!
Enter now, promo ends January 13th
Book Blurb
When a tyrant in stilettos replaces her beloved boss, and her ex snags her coveted job, teacher Dana Narvana discovers there are worse things than getting dumped on Facebook. Time for the BFF advice squad, starting with Dana's staunchest ally, Alex—hunky colleague, quipster, and cooking pal extraordinaire. But when the after-hours smooching goes nowhere, she wonders why this grown man won't make up his mind.
Alex Bethany's new lifestyle gives him the confidence to try online dating. What he craves is a family of his own until a life-altering surprise rocks his world. Knowing he's sending Dana mixed messages, Alex panics when he thinks he's blown his chance with his special person. From appetizers to the main course will these two cooking buddies make it to dessert?
Excerpt
"So this is what it's like being on a date with you," she said. "Oh." Hesitating, as if she'd caught herself. "This isn't a date, is it? Oh, I'm not belittling your gesture, bringing me to this fine establishment. But it isn't a date because you're still seeing that woman, the one you asked me about. You remember, don't you? During our planning session."
A ping of discomfort as he recalled asking Dana how to recognize the signs that a woman was interested. What could be more awkward? This. This was definitely up there on the list of more awkward moments.
"Honestly, I didn't think too much—I mean we're friends and colleagues." He picked up his wine glass. At this rate, he'd have to order a second bottle simply to block his mind from where it persisted in going, Dana-wise. That little flash of skin, her show of bravery on the supervisor-from-hell front, even her feistiness toward him. Well, she had a point about the date.
"You've always been straight with me," she said. "Do it again, be straight."
Alex leaned in, took the piece of bread from her hand and placed it on the plate, then pushed the plate out of the way. "Come closer," he said. "I want to whisper sweet somethings in your ear."
About The Author. . .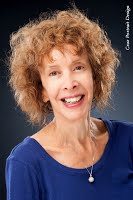 Shirley Goldberg is a writer, novelist, and former ESL and French teacher who's lived in Paris, Crete, and Casablanca. She writes about men and women of a certain age starting over. Her website http://midagedating.com offers a humorous look at living single and dating in mid life, and her friends like to guess which stories are true. Eat Your Heart Out is the second book in the series Starting Over. Middle Ageish, the first, is available now. Her characters believe you should never leave home without your sense of humor and Shirley agrees.
Contact Links
Purchase Book 1 in the Series, Middle Ageish