Born into a wealthy Atlanta family, Cunningham excelled in his education, achieved success beyond imagination, and exuded confidence in everything he did.
His friends regarded him as outgoing and smooth with the ladies. They hailed him as a moneymaking smart guy. Others saw him as impetuous and unfaithful to his wife. The people who invested in his bogus funds regarded him as a cheat in business.
What the hell. Chadwick Woodrow Cunningham had life by the ass, everyone agreed. But on a football Friday night near a small South Georgia town, his life changed forever.
Someone hired me to inquire about some missing money—nearly three-hundred million dollars—entrusted to Mr. Cunningham. By happenstance, my investigation started a few weeks before he vanished. I soon learned what transpired that evening and how people who knew him assessed Cunningham's mood in the days before then.
One thing became apparent. As influential and exceptional as Cunningham thought of himself, people valued the money he stole far more than the man.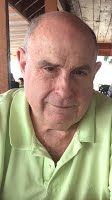 W.F. Ranew is a former newspaper reporter, editor, and communication executive. He started his journalism career covering sports, police, and city council meetings at his hometown newspaper, The Quitman Free Press. He also worked as a reporter and editor for several regional dailies: The Augusta (Ga.) Chronicle, The Florida Times-Union, and The Atlanta Journal-Constitution.
Ranew has written two previous novels: Schoolhouse Man and Candyman's Sorrow.
He lives with his wife in Atlanta and St. Simons Island, Ga.