BOOK # 4 in the JAKE CALDWELL SERIES
Crime Thriller
Publisher: Lakewater Press
Published Date: October 1, 2019
A vengeful drug lord. A vicious biker gang. A beautiful victim of a trafficking ring.
Nearly two years ago, former mafia leg-breaker Jake Caldwell had ruthless drug king Shane Langston staring down the wrong end of a pistol. Instead of pulling the trigger, Jake let the law handle it. Now Langston's escaped from prison and is hell bent on killing the men who put him there—including their families.
As the body count rises, Jake and his best friend Sheriff "Bear" Parley follow the bloody clues and realize it's not just Shane they need to stop. Jake will do whatever he can to protect the people he loves.
The fourth instalment of the award-winning Jake Caldwell series will have you biting your nails and praying you never have to make the trip to Asylum Road
.
Bear slowed past Boone Branch Creek, and a gravel drive split from the asphalt marked with a stenciled sign announcing Asylum Road. The drive dipped low into a bowl terminating at the bar. A hand-painted sign—white letters on a black board—hung over the front door. The painted letters reading The Asylum trailed down the board, like blood dripping from a wall. Were the dripping letters purposeful or the work of a sloppy painter? Either way, the ominous sign screamed "Go Away." The stone buildings matched the sign with spaced red bulbs throwing an eerie light across its face. A faint glow emanated from dirt-caked windows as the sun dipped below the tree line and bloodied the sky.
"Jesus." Jake leaned forward in his seat and studied the building as Bear rolled down the drive. "People go in there on purpose? I'll give the owner credit for the name."
Two scruffy bikers clad in Blood Devil vests over plaid flannel shirts smoked outside the front entrance, eyeballing Jake and Bear with hardened eyes. One flicked his cigarette toward Bear's truck and disappeared inside.
Bear grabbed his cell phone. "So much for the element of surprise. I'd better call in and let Klages know where we are."
Bear pulled up his favorites on his phone and punched Klages's name. "Nah. We'll probably be okay."
"It's better than maybe."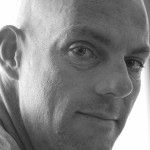 James L Weaver is the Kansas City author of the Jake Caldwell series, featuring:
· Poor Boy Road (Jake Caldwell Book #1) – IAN Thriller of the Year finalist,
· Ares Road (Jake Caldwell Book #2) – New Apple Official Selection for Thrillers and IAN Thriller of the Year finalist
· Blackbird Road (Jake Caldwell Book #3) – Solo Medalist Winner for the New Apple Book Awards Suspense/Thriller category.
James makes his home in Olathe, Kansas with his wife and two children. His previous publishing credits include a six-part story called "The Nuts" and his 5-star rated debut novel Jack & Diane, which is available on Amazon.com and has been optioned for film.