Mystery Detective, Police Procedural, Crime, Suspense
Date Published: Between 2011-2019
Publisher: Hibbert & Stiles Publishing Inc.
Murder. Investigation. The pursuit of justice. Do you love trying to figure out whodunit? How about investigating alongside police detectives from the crime scene to the forensics lab and everywhere in between? Do you love a strong female lead? Then I invite you to meet Detective Madison Knight as she solves murders with her male partner, utilizing good old-fashioned investigative work aided by modern technology.
This is the perfect book series for fans of James Patterson, Michael Connelly, and JD Robb to name a few. This series is also bound to entertain those who enjoy Law & Order, CSI, Blue Bloods, Rizzoli & Isles, Women's Murder Club, and Hawaii Five-O.
Read in any order or follow the series from the beginning: Ties That Bind, Justified, Sacrifice, Found Innocent, Just Cause, Deadly Impulse, In the Line of Duty, Power Struggle, Shades of Justice, Life Sentence (Bonus Prequel).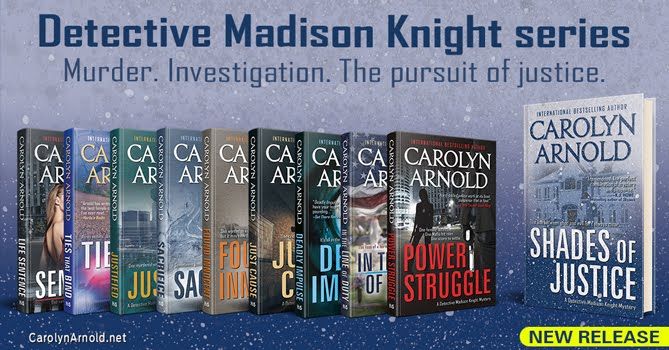 Excerpt
Chapter 3 of Shades of Justice (Detective Madison Knight series)
They say someone's always having a worse day than you are. Who the heck are "they," and how would they know, anyway? Madison was pretty sure days couldn't get much worse than the one Kimberly Olson-Malone was having. Madison couldn't imagine finding her own mother dead—and naked with another man, no less. As much as she felt for Kimberly, she couldn't let it cloud her judgment. Kimberly had been the one to find them and that alone made her the first suspect.
Terry pointed to the next street as they drove. "Turn right there."
Even though Terry knew where they were going, Madison was the one driving.
She took the corner, and he pointed at a two-story, gray-brick mansion. With the exception of the forensics van and a police cruiser parked in the three-car driveway, the house had terrific curb appeal with its large front windows and double-door entry.
Madison parked out front on the street.
"Before we go in, I'm going to give you a warning," Terry said.
She glanced over at him, her hand letting go of the door handle. Was he going to tell her it was a messy scene? There wasn't much else that turned her stomach as did the sight and stench of a lot of blood. She gulped. The victims had been shot.
"Okay," she said with trepidation.
"Cynthia's on the warpath," Terry said. "She makes your bad moods look like—"
"Be careful of your next words."
"Or what?" He wriggled his fingers as if to say, Bring it on.
Terry really was the brother she never had. "Why's she in a bad mood?" Madison asked but could think of at least one off the top of her head: her wedding was mere days away, and a case like this would take a lot of time for evidence collection and processing. That thought led to another. "Oh, no."
"What?"
"We had plans for a final dress fitting tonight. We might have to push that off."
Terry arched his brows. "I'm not a wedding planner, but shouldn't dress fittings have been done ages ago?"
It wasn't for the lack of trying, but it turned out that when dresses were ordered from different shops, they could be made from different dye lots. With Cynthia's sister and bridesmaid, Tammy, living in Alabama, she'd gotten hers there while Madison ordered hers in Stiles. With take two, they returned their initial dresses and arranged to get new ones from the same bridal shop in Stiles. "It's a long story," was all she said.
"Okay." Terry dragged out the word, but quickly moved on. "Well, she's pissed because the firemen who responded to the nine-one-one call pulled the bodies out of the pool."
"Oh," Madison said slowly, appreciating that her friend would be livid about contamination of the crime scene. Cynthia wouldn't care that the firemen were wired to save lives until—or unless—they could confirm death.
The two of them got out of the car, and at the front door, Madison looked up. The place had looked big from the curb, but standing next to it only impressed just how successful the Malones were.
Officer Tendum was stationed at door. He was younger, a little wet behind the ears, and he and Madison had butted heads more than once. Then again, it was his stupidity that had resulted in her former training officer, Reggie Higgins, being shot during a murder investigation about a year ago. At least Higgins had been fortunate enough to recover and return to work.
Tendum stepped to the side to allow Madison and Terry to enter the house.
Inside, they were greeted by a grand entry with two sweeping staircases that hugged the curves of two walls. A large, teardrop-crystal chandelier punctuated the center of the space. Abstract paintings adorned the walls with lighting mounted over them. Madison didn't know much about art, but flea-market finds didn't typically wind up in fine frames with specialty lighting.
The smell of chlorine hung in the air, and she started following her nose—and Terry—toward the back of the home.
They passed an expansive living space that could have served as a lobby for a fine hotel. A bottle of red wine sat on a coffee table as did two wineglasses, each with some wine in them. The kitchen off to the right gleamed with high-end stainless steel appliances, and a breakfast bar lined the wall.
"All this for two people," Madison said, thinking about the imbalances of wealth distribution.
"Yep, all eight thousand square feet," Terry responded.
He opened the door to an atrium with a million-dollar view of the Bradshaw River that ran through Stiles. The rectangular pool, surrounded by a tiled patio dotted with lounge chairs and tables, took center stage. A hot tub, large enough for six, was to the right end of the pool, and in the corner of the room, there was a sauna. Blood spatter was to the immediate edge of the pool, to the left of the pool ladder, along with the two bodies.
Matching bullet holes marked both their foreheads, but the water had cleaned the wounds. For a shooting, there was minimal mess.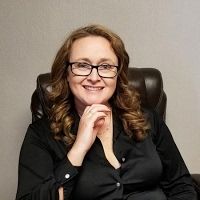 CAROLYN ARNOLD is an international bestselling and award-winning author, as well as a speaker, teacher, and inspirational mentor. She has four continuing fiction series—Detective Madison Knight, Brandon Fisher FBI, McKinley Mysteries, and Matthew Connor Adventures—and has written nearly thirty books. Her genre diversity offers her readers everything from cozy to hard-boiled mysteries, and thrillers to action adventures.
Both her female detective and FBI profiler series have been praised by those in law enforcement as being accurate and entertaining, leading her to adopt the trademark: POLICE PROCEDURALS RESPECTED BY LAW ENFORCEMENT™.
Carolyn was born in a small town and enjoys spending time outdoors, but she also loves the lights of a big city. Grounded by her roots and lifted by her dreams, her overactive imagination insists that she tell her stories. Her intention is to touch the hearts of millions with her books, to entertain, inspire, and empower.
She currently lives in London, Ontario, with her husband and beagle and is a member of Crime Writers of Canada and Sisters in Crime.