Book two in the Haunted Bluffs Mystery Series
Mystery (with elements of the paranormal and whispers of romance)
Publisher: Crooked Lane Books, distributed by Penguin Random House
Date Published: November 12, 2019
A deadly storm, a missing three-year-old child, a suspicious death, and the eerie presence of the spirits of the dead set the stage for the second mesmerizing installment of Loretta Marion's paranormal suspense series.
A powerful storm descends upon Cape Cod's Whale Rock at the peak of tourist season--and the weekend Cassandra Mitchell's and Daniel Benjamin's wedding is set to take place at The Bluffs, the magnificent Victorian mansion Cassie inherited from her family. In the wake of the storm's destruction, three-year-old Lucas Kleister goes missing--and the body of small-time drug dealer Lee Chambers is found in a restaurant dumpster. Now, the WRPD are faced with a murder to solve, a missing child to find, and the aftermath of one of the worst storms in recent memory.
While aiding with the clean-up and helping the displaced, Cassie has been receiving cryptic messages from the spirits of her great-grandparents, Percy and Celeste Mitchell, the original residents of The Bluffs. At first, the messages are benign, but soon, they begin to point to something more sinister. As Cassie works to decipher their meaning, the specter of a mysterious local legend surfaces. The tale of Barnacle Boy--and what happened to him during another destructive storm decades earlier--will weave through the desperate search to find Lucas and the identity of a killer.
"Modern and historic mysteries collide in Marion's bittersweet storytelling."
—Kirkus Reviews
"[A] gripping sequel...Marion seamlessly weaves the multiple story threads together. Fans of tales of regional intrigue will be satisfied."
—Publishers Weekly
On the short walk to my car, a sparkle caught my eye on the ground near a temporary dumpster behind La Table, the new location of my old flame Billy Hughes's catering business.
Later, I reflected on how different things would have been had I not been so curious.
What if I hadn't had the dress fitting today? What if I hadn't parked in Archie's space? What if I hadn't gone out the back door of his shop? What if I hadn't gone over to examine what was glittering next to the dumpster?
"The what ifs and should haves will eat your brain." It was a quote of John O'Callaghan's, from his book of poetry entitled, Sincerely, John the Ghost—ironically, a gift from Zoe, who'd always eschewed the notion of Percy's and Celeste's spirits.
The point is, if I hadn't done all those things, then I wouldn't have seen that glint on the ground and gone over to check out what it was. Most crucially, I would never have noticed a hand through the rusted-out hole in the dumpster.
A very dead hand.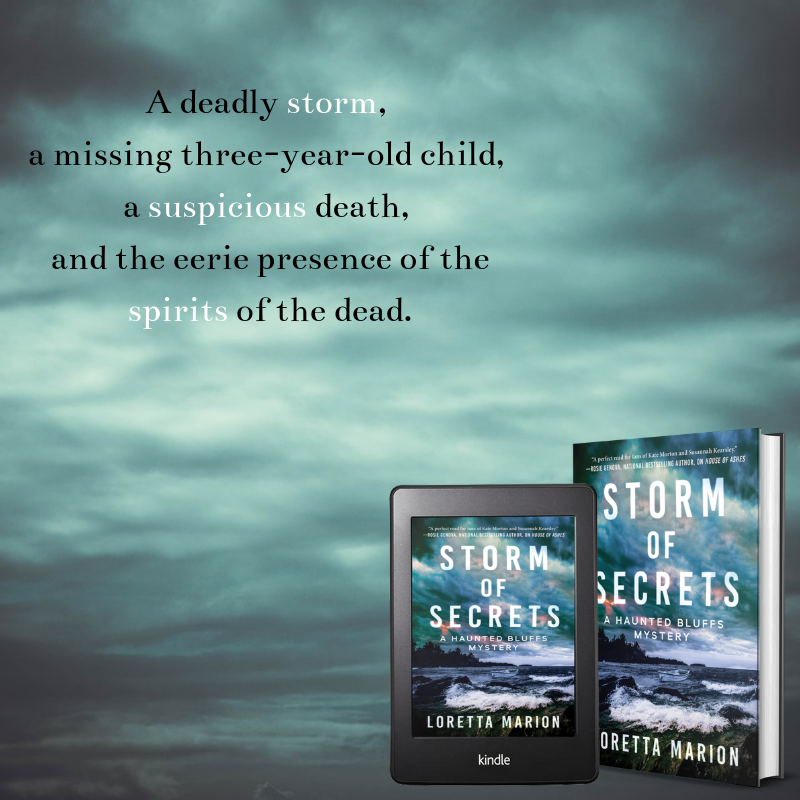 About the Author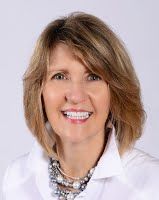 A true bibliophile, Loretta Marion's affection for the written word began in childhood and followed her like a shadow throughout her life as she crafted award-winning marketing and advertising copy and educational brochures. She then applied her writing skills as a volunteer, establishing a Legacy Story program for hospice patients, which inspired her to create her own fictional stories. Her debut novel, The Fool's Truth, is a twisty mystery set in Maine. Her Haunted Bluffs Mystery Series is set on Cape Cod and was introduced by Crooked Lane Books in 2018 beginning with HOUSE OF ASHES. Her newest release, STORM OF SECRETS, is the second book of the series.
When not whipping out words on her laptop, she is traveling, enjoying outdoor pursuits, or is curled up with a delicious new book. Loretta lives in Rhode Island with her husband, Geoffrey.